Couples Counseling
Evidence-based couples counseling in New York City
Every romantic relationship starts off on a high note: the warm, happy buzz of feeling close and connected; the intimacy, the "spark" in the bedroom; the excitement, hopes, and dreams for a future shared together.
But then, something changes.
Distance begins to form, and the "spark" fades. Anxiety and doubt about the partnership enter the picture. People may begin to feel misunderstood, hurt, or even betrayed by their partner. The bottom line is, something isn't working.
Is your relationship struggling? Do you and your partner have issues with intimacy or communication? Are you feeling overwhelmed, stuck, and unsure where to turn?
You don't have to do this alone.
My name is Margot Weinshel, and I offer couples therapy for adults from all over New York City because I believe that every relationship deserves support. I utilize techniques from Emotionally Focused Therapy (EFT) and other evidence-based modalities for helping you and your partner overcome barriers to connection.
If you are interested and ready to sign up for your first session, contact me today. Read on to learn about couples counseling and how it can help.
What is couples counseling?
Couples counseling, also called couple therapy, is the gold-standard treatment option for common relational issues.
Sessions involve meeting together with your therapist and your partner(s) to improve the relationship and work through any problems you are facing. It's not about placing the blame on any one person or making anyone feel ashamed. After all, it takes two to tango.
You and your partner(s) get a chance to open up and learn from one another in a safe, confidential space. You get to rely on the guidance of an expert therapist trained to notice breaks in communication and teach skills for overcoming your struggles. And, you eventually get to reach a place where your relationship is self-sustaining, and you don't need therapy as much anymore.
Do we really need couples counseling?
Every relationship has room to improve, and so everyone can benefit from couples counseling. However, there are some specific issues faced by couples that therapy can really help with. Some of the most common "red flag" signs that a relationship is struggling include:
Frequent conflict, fighting or arguing
Poor communication
Feeling misunderstood by one another
Abuse and controlling behavior*
Cheating and infidelity
Issues with sex and intimacy
Feeling like "this isn't the person I married"
Difficulty with childrearing and infertility
*When abuse has entered into the partnership, some members will feel unable to express themselves or have their needs met. My priority is your safety, and so if you are in an unsafe or abusive relationship, contact the domestic violence hotline or follow this link.
No matter how difficult things might seem right now, I can help.
Contact me today to get the support your relationship deserves.
How can couples counseling help?
Every healthy relationship has three essential ingredients: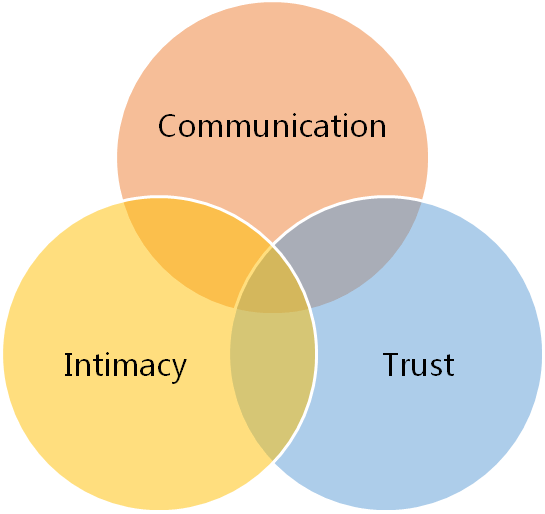 Communication is absolutely critical for any relationship to function. The healthiest couples are able to express their needs to one another, feel heard and respected, and find ways to be supportive. You need to be able to understand one another's emotional world. You want to be able to meet one another's needs and solve problems together as a team. But none of those things can happen when communication isn't working.
Trust is all about safety. Without it, the relationship feels insecure, unreliable, and unsteady. When the relationship experiences a violation of trust (e.g., if your partner cheats), that sense of trust is often shattered. Your relationship should feel dependable. You should be able to believe in your partner and feel like they are on your side. Most importantly, you should be able to work through moments where trust is broken, find ways to forgive, and rebuild.
Intimacy is often at the root of the problems couples face. Some relationships struggle with sexual and physical intimacy, but nearly all have difficulty with emotional intimacy. And, those two things often affect one another – it's hard to feel that "spark" when you don't feel close, and vice versa. Your relationship should feel intimate, warm, and satisfying. You should both be satisfied with each other's efforts to meet needs. And, you should be able to be vulnerable without worrying about being ashamed or hurt.
Couples counseling is all about bolstering and addressing barriers to these three key ingredients. Couples counselors are able to identify breaks in communication and offer critical insights about your interaction style. We can help the two of you feel safe to share your thoughts, feelings, and needs with one another. You get to learn essential skills for enhancing all forms of intimacy and rebuilding broken trust.
Whether you are looking to do some premarital work, long-term dating partners, or dealing with the possibility of divorce, couples counseling can make a difference. All it takes is a willingness to get started.
What is therapy like with Margot?
Let's work together!
As a couples therapist, my primary goal is to work myself out of a job. I strive to help you and your partner get back on track as quickly and effectively as possible so that, eventually, your relationship can support itself. I use multiple evidence-based methods in my practice, but I mostly draw from Emotionally Focused Therapy (EFT) to help couples dive deeper into their emotional processes and learn to express themselves in healthy ways.
I work with adults from all over the state of New York from my office in New York City, where I serve clients from all over the area (West Village, East Village, SoHo, TriBeCa, Flat Iron District, Upper East, and West Side). Currently, my work is primarily remote via teletherapy, but in-person visits will be available once the health and safety restrictions allow.
You, your partner(s), and I will meet together for an initial session to help us get to know each other and for me to hear your goals as a couple. As we work together, you can begin to learn how to:
Work the pain of infidelity
Grow closer to one another
Support and care for one another
Make important decisions together
Understand and address difficulties with communication
Engage in difficult conversations (e.g., divorce, breakup, etc.)
Overcome barriers to intimacy and sexual wellness
Build a future that works for both of you
I also specialize in helping couples who are dealing with the difficulties related to infertility, where I draw on my expertise as a former nurse and past chair of the American Society for Reproductive Medicine Membership Committee.
Whatever goals you have as a couple, whatever you have faced together, I want to help make things better – you deserve nothing less. Contact me today to get started.